HYTORC REACTION WASHER & HYTORC NUT
HYTORC REACTION WASHER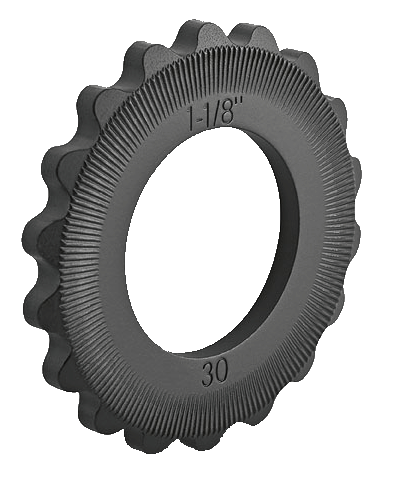 The HYTORC Reaction Washer works with a double-layered socket; the outer socket holds onto the washer while the inner socket turns the nut.
HYTORC NUT
The HYTORC Nut is a reusable, site-suitable, three-piece tensioning system – perfect for time-critical applications – and is the safest tensioning system in any industry. The HYTORC Nut replaces the standard nut, remaining on the application.
The HYTORC torque tool gets its reaction from the hardened washer of the HYTORC Reaction Washer or HYTORC Nut, tensioning the bolt in seconds with a bolt-load accuracy of +/- 10% using the HYTORC Reaction Washer and an amazing +/- 5% using the HYTORC Nut. With the hydraulic tool, a single bolting technician can tighten the application with multiple tools simultaneously. The bearing-face of the joint suffers no damage as there is no turning force on the bearing-face. Reaction arms and backup wrenches are no longer needed. With the HYTORC Reaction Washer or the HYTORC Nut, the lifetime of the tool is extended and the bolting process – even inverted – is controlled remotely, the technician no longer needing to hold the tool in place. No more pinch points! Torsion-free! Side-load free! Back-up wrench free! Hands-free! Reaction-arm-free!! bolting has arrived.